Orangeville Vision Development Centre uses the most up-to-date technology to ensure the best eye care possible. Here are some of the different types of tests and equipment
you may experience
on a visit.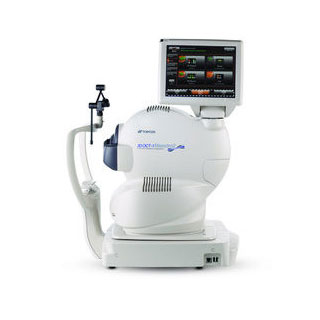 3D OCT-1 Maestro
A comprehensive OCT platform that gives you retinal, optic nerve and anterior segment imaging capabilities as well as beautiful fundus and anterior eye images with extensive tonal range
32-AXIS221 Manual Lensmeter w/ Ink
This is used by optometrists and opticians to verify the correct prescription in a pair of eyeglasses and contact lenses, to orient and mark uncut lenses, and to properly mount lenses on eyeglass frames.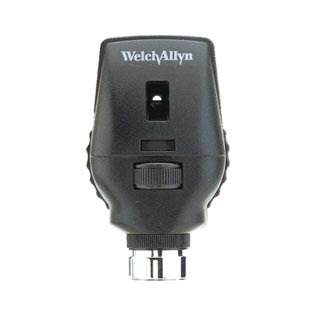 3.5V Standard Ophthalmoscope
Used for inspecting the retina and other parts of the eye.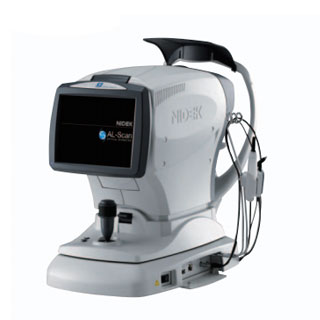 AL-Scan
The Barometer provides a highly accurate non-invasive automated method for measuring the anatomical characteristics of the eye to plan for cataract or refractive surgeries.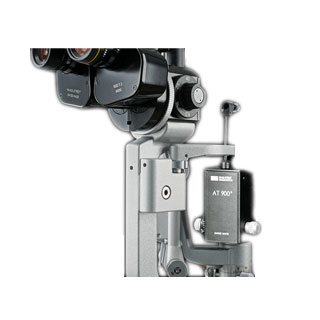 AT 900 GOLDMANN APPLANATION TONOMETER
Non-contact tonometer whose totally automated operation results in error-free ocular pressure measurements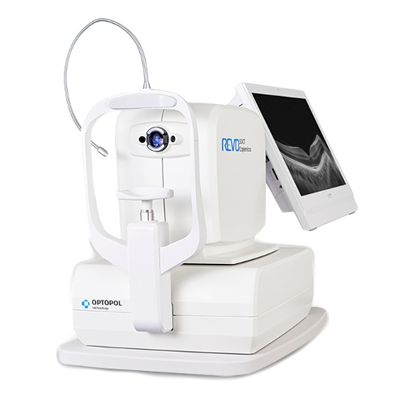 Revo 60 OCT
OCT made simple as never before. All you have to do is to position the patient and press the START button to acquire examinations of both eyes. The device will make the examination independently. Small system footprint, various operator and patient positions allow installing SOCT Copernicus REVO even in the smallest examination rooms. Variety of review and analysis tools gives the operator a choice of using it as a screening or as an advanced diagnostic device. The noise reduction technology provides the finest details proven to be important for early disease detection.

Keeler 3.6v Professional Retinoscope
Professional Streak Retinoscope Quality Retinoscope for the Ophthalmic Professional There are those that love Streak and those that love Spot. The Keeler Professional Combi offers the best of both worlds. The unique optical design provides the first truly bimodal Retinoscope with just a quick bulb change. A true streak or spot - no compromises. The Professional Retinoscope is practical and professional, giving access to a range of advanced features geared towards the Ophthalmic Professional. Available with a 2.8V or 3.6V Bulb or LED Illumination. 2.8V models accept AA Batteries. 3.6V models accept rechargeable 3.6V Lithium Battery, charger sold separately. Optical Excellence, Manufactured in the UK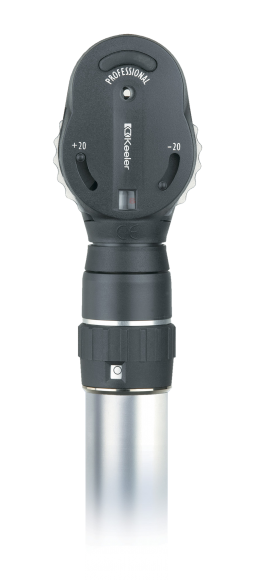 Keeler 3.6v Professional Ophthalmoscope
Precision Capabilities for the Ophthalmic Professional Single Dioptre Steps from +9 to -10 allow precision changes to lens power. A secondary Auxiliary Lens Wheel allows secondary lenses to provide +/-20 jumps in Dioptre lens power. Additional Glaucoma graticule provides improved diagnostic capabilities. Available with a 2.8V or 3.6V Bulb or LED Illumination. 2.8V models accept AA Batteries. 3.6V models accept rechargeable 3.6V Lithium Battery, charger sold separately. Optical Excellence, Manufactured in the UK Contents: Professional ophthalmoscope Handle Spare bulb (Bulb Models Only) Instructions CD Protective case Rechargeable Lithium Battery (3.6V Models Only)